Due to the current Covid-19 situation, all Summer Program classes have been cancelled!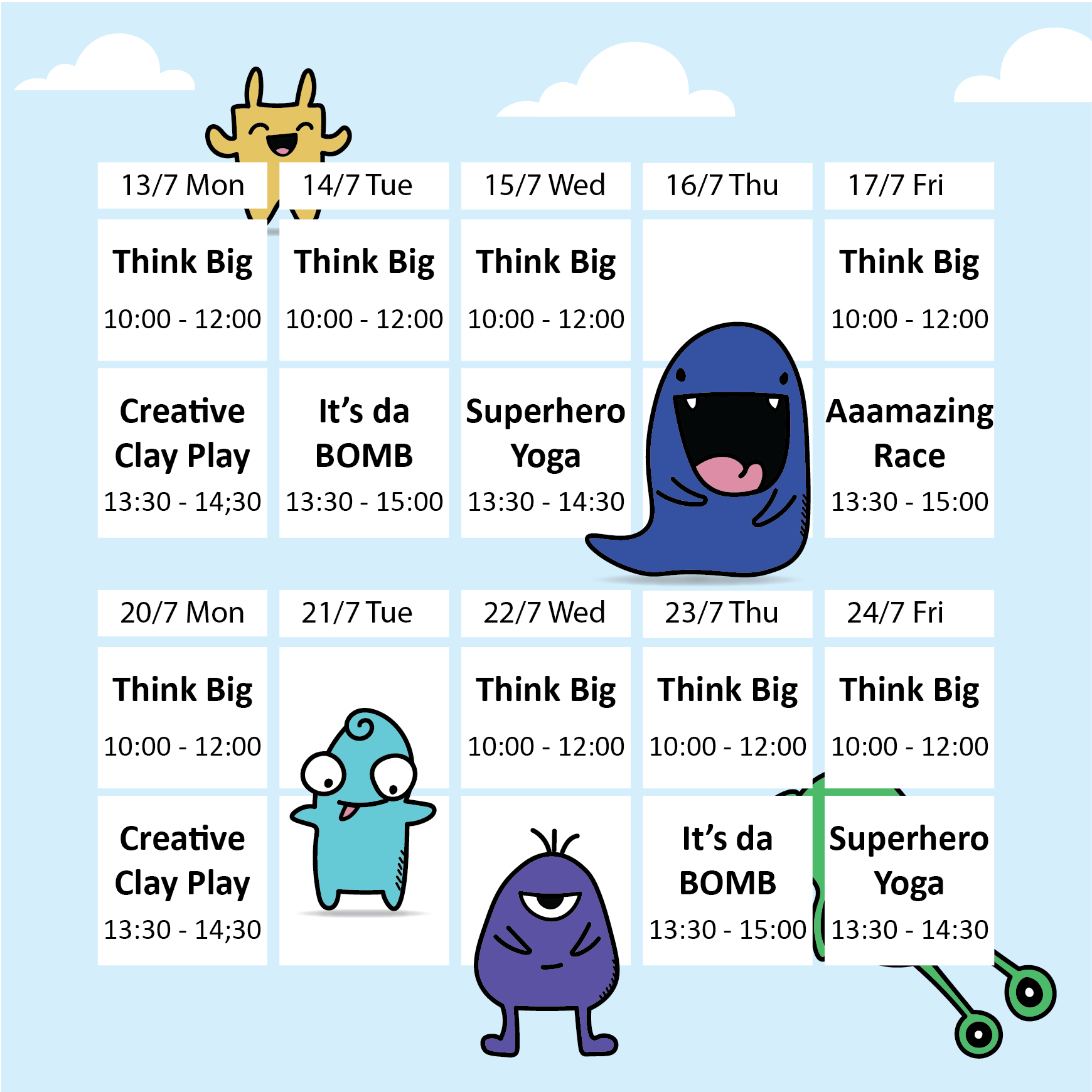 Think Big
Location: Wong Chuk Hang
Ignite young writers creatively, encourage the joy of writing and develop their writing skills. This 4-session series aims to dedicate time to exploring the creative thought process, sharing of ideas and learning writing skills.
$1300 / person, minimum 2 people
AAAmazing Race
Location: Wong Chuk Hang
Group games are fantastic for kids; not only are such activities fun and engaging, they are also a great opportunity to learn skills such as team building and creative thinking. Team building activities also give kids the chance to build relationships with each other and develop social skills.
$200 / person, minimum 6 people
Creative Clay Play
Location: Wong Chuk Hang
Whether it is their favourite cartoon character, seasonal flavours or local Hong Kong icons, there is no limit to kids' imagination using dry clay. The participants may also enter into competitions in Hong Kong.
$250 / person, minimum 2 people
Superhero yoga
Location: Wong Chuk Hang
Children will go through a fun journey as a Superhero by using the elements of Yoga. No one is ever too young to start yoga. Kids yoga classes are a wonderful way for children to learn self-calming skills, body & breath awareness, flexibility, strength and balance.
It also helps to build children's confidence and self-esteem. Through yoga, Children learn to relax, concentrate, and be gentle in a fun and creative environment.
$200 / person, minimum 2 people
It's da bomb
Location: Wong Chuk Hang
Come have some fun and get creative making your own homemade soap and bath bombs. In this class, our instructor will show you the melt and pour method where children can add colours, scents, glitter and small toys to create their own unique shaped soaps and bath bombs. And the best part is they get to take the soaps and bath bombs home at the end of the class!
$350 / person, minimum 2 people